Fun Life - that's what we aspire to at FunAir®. The company believes in spending time outdoors with family and friends laughing, smiling and having fun. Driven by this passion, they have created hundreds of custom-designed inflatable yacht toys for superyachts across the globe. FunAir products are engineered to fit your yacht perfectly and will turn her into the epicentre of fun!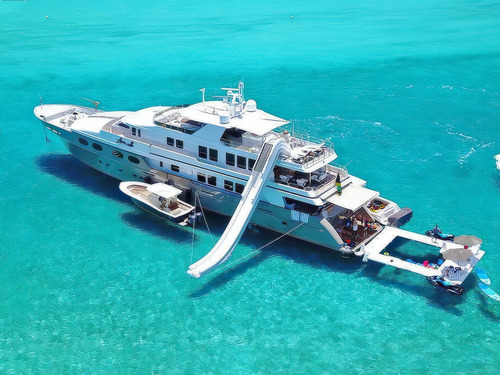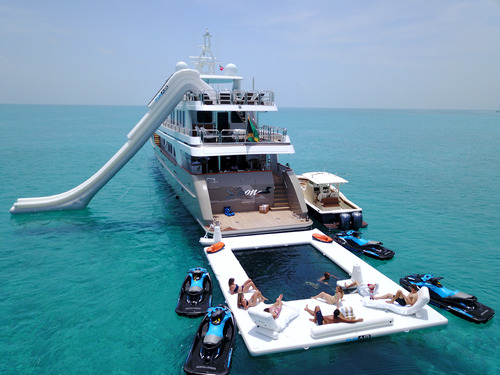 Toys for Your Toys
FunAir specializes in slides. FunAir built hundreds of them over the years, offering custom sizes, colours, logos, and designs built to exact boat specifications, ensuring your yacht slide integrates seamlessly with your boat. FunAir designs include Bow Mount, Curved, Riser, Self Lifting, Hanger, and Stern slides. The company's slides for superyachts are custom built and designed by the in-house engineering team based in Austin, Texas.
Innovation, Quality, Fit and Finish are the foundational pillars of FunAir. The company team has the attention to detail that captains and owners expect. Let them amp up the level of Fun on your Yacht. FunAir builds the finest and widest range of inflatables that can be themed to match your yacht livery with your yacht's colour scheme and logo.
Patented innovations, such as RapidFlate, inflate products 6x faster than traditional inflation methods. Purposely designed D-Ring locations, lifting handles, and reinforced crane straps to ensure lifting and tying off slides is easy and safe. Hot-air welded double T-strip seams deliver the strongest seam technology. FunAir slides use the highest quality UV protected slick vinyl that allows a faster descent for riders. All slides include an integrated water distribution system.
Why Choose a FunAir Inflatable Yacht Slide
Seamless Fit
Using the latest 3D CAD technology, the engineers design the products to fit your boat seamlessly. They can usually work from the yachts General Arrangement or can send you a measuring guide.
Safer for Guests
All FunAir slides use smooth vinyl arms to prevent slide burns and a no-jump net to keep riders safer.
Safer for Crew
Along with plenty of lifting handles, and reinforced crane straps ensuring lifting and tying off slides are easy and safe for yacht crew. The self-lifting slides even lift themselves!
Faster Inflation
FunAir and the Yacht Slides inflate and deflate six times faster than anything else on the market due to our patented RapidFlate system.
Fold Tighter & Lighter
FunAir slides fold tighter and lighter because they use the very latest materials that are developed to be stronger and with a super slick finish
Easier to Clean
This world-class slippery finish means you don't need a cover sheet which not only reduces the weight and pack size, it also makes cleaning your slide easier and reduces the risk of mould or mildew forming in hidden creases.
Minimal Storage
Fun Air in-house engineering team makes sure they design the slides with clever hot air welded double T-strip seam placements and D-Ring locations so they are much easier to fold flat and take up minimal storage space.
All Included
All slides include an integrated water distribution system, a RapidFlate blower (when appropriate) and a FunAir electric pump.
Custom Superyacht Yacht Slides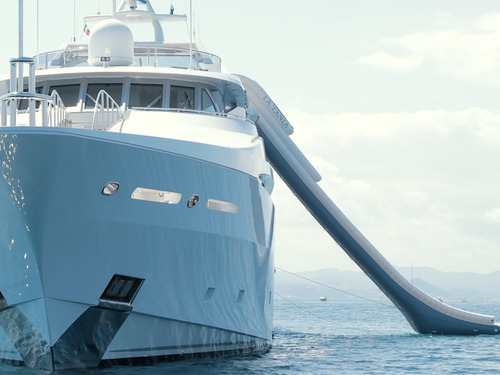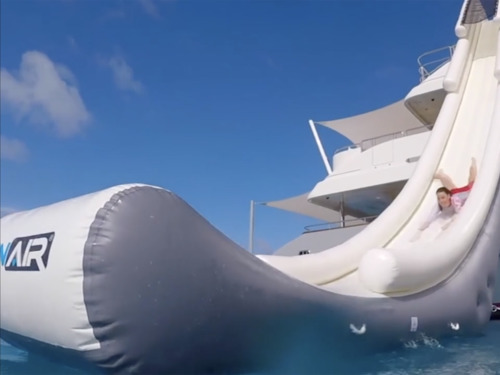 Our slides for superyachts are custom built and designed by our in-house engineering team based in Austin, Texas. We love new ideas and can't wait to manufacture your next dream Yacht Slide. The only limitation is your imagination and a nod to the laws of physics.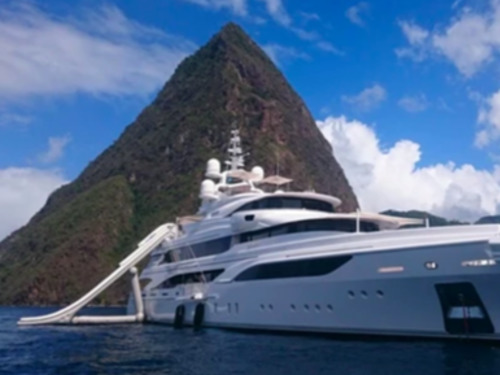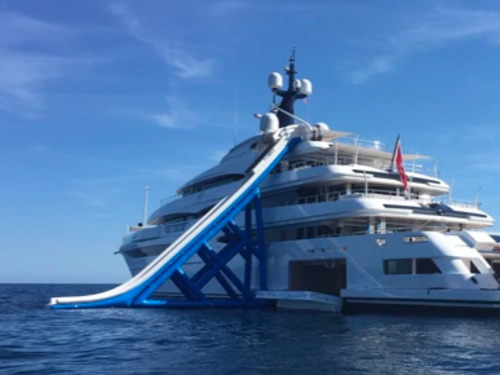 Riser
The FunAir Riser Slide is a 9.5M or larger custom Superyacht Slide that will impress thrill-seeking guests and keep the fun rolling with our RapidFlate system that reduces inflation and takedown by six times compared with traditional methods.
Self-Lifting
The name says it all. This custom Water Slide for superyachts lifts itself during deployment making crew lives easier and helping busy yacht owners and charter guests to have even more time to enjoy themselves.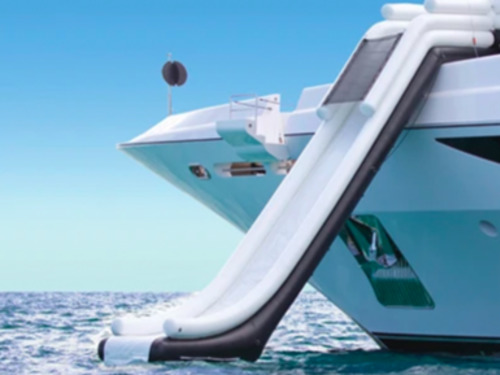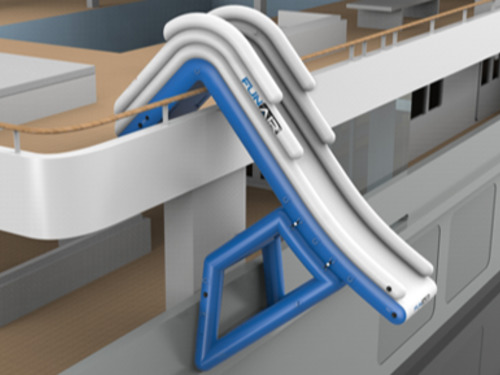 Bow
The FunAir Bow Slide is custom engineered to fit seamlessly onto the bow of your motor yacht. It can be built to any length and our in-house design team can include your yachts name and logo with a colour scheme of your choice.
Flume
One for the true adventurers, the FunAir Flume gives the rider the feeling of flying through the air and can be engineered to fit almost any configuration of the yacht. Extremely flexible this Superyacht Slide experience is the ultimate GoPro accessory.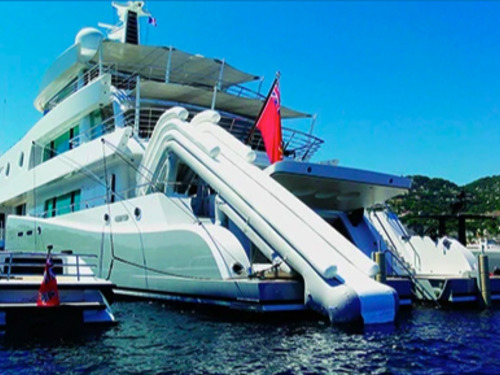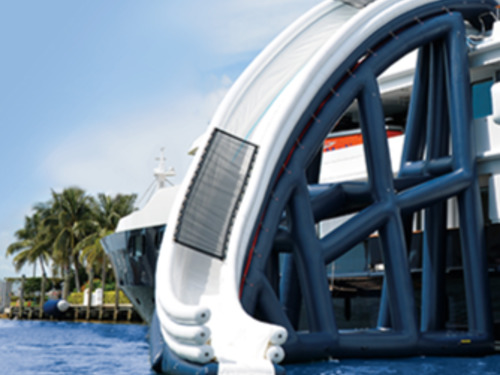 Stern
This Yacht Slide design allows superyacht crew to deploy the fun using space available at the stern when an over the rail slide is not possible or desired. Keeping the action in one place this solution works well with families and guests who want to stick together.
Curved
A showstopper Yacht Slide, our curved design allows yacht owners and charter guests to exit the slide and enter the water closer to the swim platform. This design is perfect for swimmers who want to get back to action as soon as possible.
QuickShip Yacht Slides
Many of our Yacht Slide designs are so popular that FunAir has built an in-stock inventory to accommodate time-sensitive requests. An excellent option for the yacht broker who needs a slide fast to secure a last-minute charter booking, look for options below with the QuickShip icon.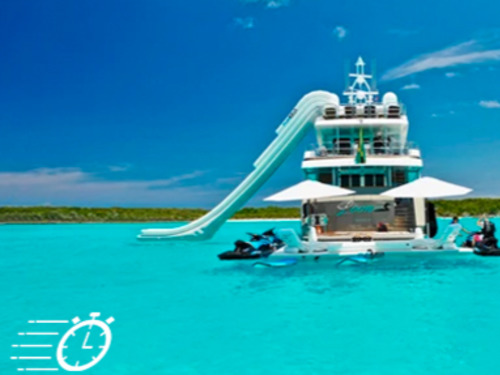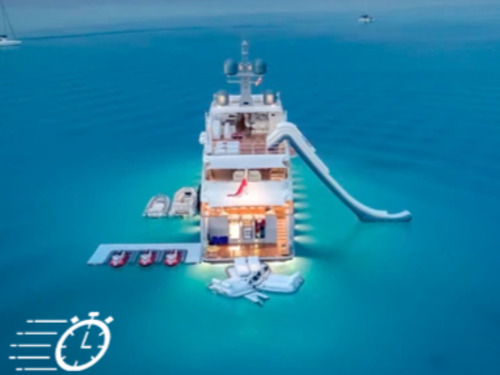 Hanger
The FunAir Hanger Slide is a 4M – 6.5M slide that is the yachting industries lightest, fastest, and easiest yacht slide to deploy for your guests. Purposely engineered to provide maximum fun on your yacht while taking minimal storage space and crew members to deploy.
Hanger Extreme
The FunAir Hanger Extreme Slide is a 7M – 9.5M over the rail Yacht Slide engineered for extreme levels of fun. Designed with set up and take down times in mind, our RapidFlate system and clever D-Ring and handle placement keeps things simple for the crew.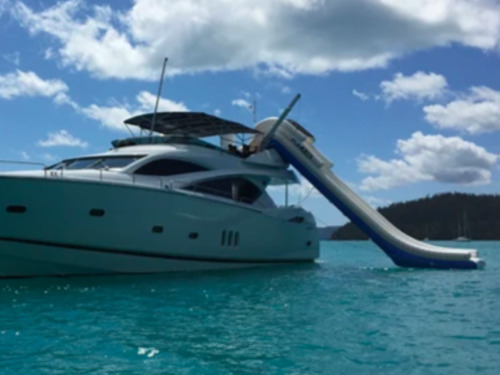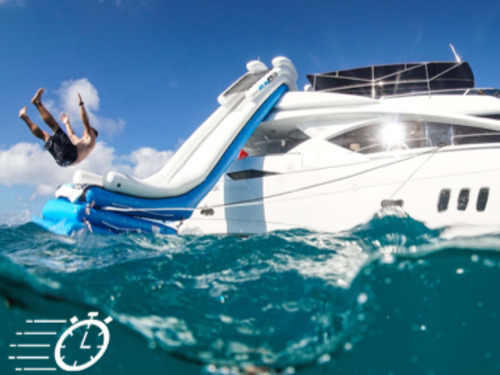 Hanger Mini
The perfect Yacht Slide for most mid-range superyachts. The Hanger Mini can be custom built to be between 2 – 3.5M in length and is constructed from the latest and most technically advanced materials making it super easy to use and maintain.
Hanger Lite
All the fun designed for ocean-loving people who like to be closer to the water. Our Fun Size Inflatable Water Slide is a neat 1.5M and folds tight into even the smallest storage hold.
Product Specifications
FunAir inflatables are thoughtfully designed by the world-class engineering team and carefully hand-made with the world's best materials and manufacturing techniques.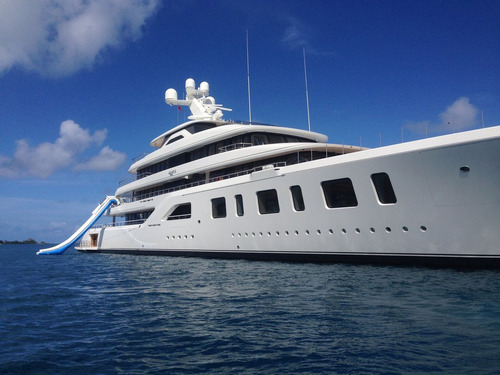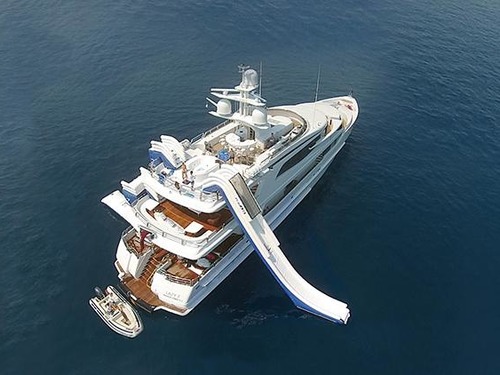 Material Specifications
0.9 mm 28*26 1000 denier PVC with FR and UV ratings, 12 oz. – 1000 denier baffling, 316 stainless steel hardware, non-slip material, hot-air welded seams, no-rot netting and ropes.
Dimensions
Sizes and weights vary depending on the design of the slide. Slide sizes can vary between 3M and 12M in height. The company provides inflated and packed dimensions so you best understand how to store your product.
Set-Up Time
Set up times vary depending upon slide design and location on the boat. The team will work with your captain to help select the best slide for your boat.
Warranty
3-year limited warranty. Full details available on request.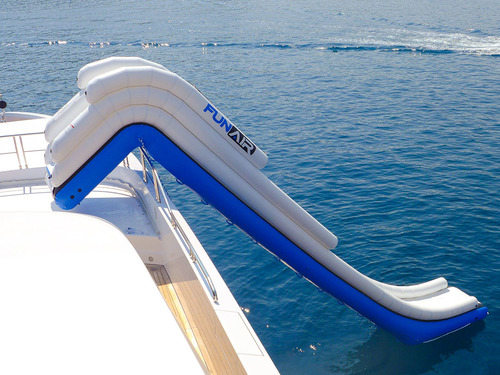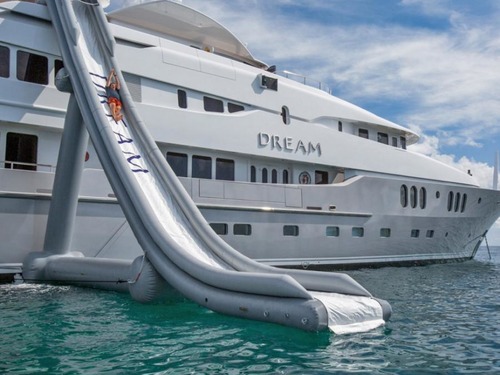 FunAir now works directly with owner representatives at top superyacht manufacturers such as Princess Yachts, OCEANCO and Lürssen during the planning and new build process. Meeting at the shipyard allows FunAir to ensure that inflatable yacht toys are built into the planning process of yacht designs. This means owners and their crew have products deployed and stored in the most efficient locations onboard.
How to get started
The best way to get started is to tell us about the projects that you are interested in and send some general information about the yacht. The more details that the company has about the yacht the better. Fun Air prides ourselves for delivering a superior form and fit. FunAir takes their clients privacy very seriously. The company is more than happy to review and sign a Non-Disclosure Agreement before you send them any pertinent details.

The following information is key if what you want fits to or alongside your yacht:
What is the name of the yacht or project?
Length?
Beam?
Manufacture?
Make?
Model?
It is super helpful to have a copy of the General Arrangement. FunAir can normally pull all necessary measurements from the GA to get started.
If you do not have a copy of the GA for the boat, we can send you a FunAir Measuring Guide. This document will walk you through the collection of three key measurements and some helpful photos. This will give FunAir all we need to get you an initial proposal.
Sending us lots of photos of the yacht is also very helpful.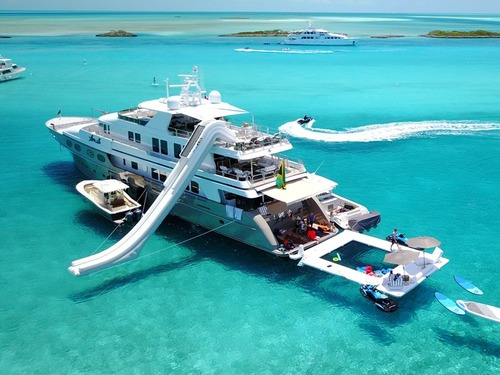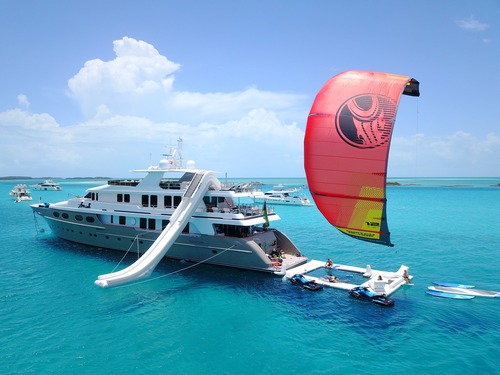 Please, contact our assistants if you would like to make an order
to a Fun Air yacht slide or any other inflatable product.