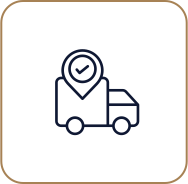 WORLDWIDE SHIPPING

For your comfort we will deliver the order as close to your yacht as possible!
There are the best European delivery services among our partners, we have full confidence in their quality of services and ability to meet the completion deadlines. It is required to specify the address of the marine where your yacht is moored, and after the delivery you will just need to pick up your order in the head office of the marina.

We choose the fastest and most convenient way of delivery, but please note that the delivery speed can depend on the region and the overall dimensions of the order. If your order includes products of several suppliers, it might be delivered in parts.
Orders with delivery outside EU zone should go through customs clearance procedures, therefore we can not predict the final duration of the delivery. The costs and obligations of customs clearance are the responsibility of the buyer, unless otherwise stipulated in the terms of delivery.
Precise information about delivery conditions, its type and duration will be provided to you by a Marine Expert specialist after placing the order.
---
Payment and shipping
Shipping terms
The delivery of the Goods takes place worldwide.
Shipping costs (including VAT)

Deliveries in Germany (Germany) and EU:
the shipping costs are depending on weight, size and distance from 30 Euro.
Deliveries abroad:
the shipping costs are depending on weight, size and distance from 60 Euro.
Delivery
Insofar as no other period is specified in the respective offer, the delivery of the goods within Germany (Germany) takes place within 3-10 In the case of deliveries abroad within 7-30 days after conclusion of the contract (with agreed advance payment after the date of Money order).
Please note that there is no delivery on Sundays and public holidays.
If you have ordered items with different delivery times, we will ship the goods in a different shipment, unless we have have made deviating agreements with you. The delivery time in this case is determined by the item with the longest Delivery time you ordered.
The minimum order value is: 100 €.
Accepted Payment Options
- Payment by credit card
- Payment by PayPal
- Payment by invoice
- Payment via Google Pay
- Payment by Apple Pay
Further payment details
The invoice amount must be settled within 3 days of payment on account.
If you pay by credit card, your credit card account will be debited with the shipment of the goods.
If you have any questions, you will find our contact details in the imprint.
---