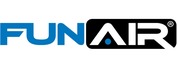 ABOUT THE COMPANY
Fun Air - the superyacht industry's leading manufacturer of inflatable water toys. Focusing on innovation, quality and service the Fun Air team is based in Austin, Texas. The mission at FunAir is to create the ultimate custom inflatables that deliver a lifetime of fun and memories which are designed with both yacht crew, owners and charter guests in mind. FunAir's goal is to make enjoying inflatable products easier and faster, whilst allowing crews to quickly deploy, operate and store their water toy portfolio. Innovation, quality, fit and finish are the foundational pillars of FunAir. The team has the attention to detail that captains and owners expect, and their exceptional standards have made them the most popular manufacturer of inflatable superyacht toys and accessories globally.
PRODUCTS:
Yacht slides
Inflatable Yacht Slides are a speciality of FunAir. The company offers fully customized slides and in-stock slides through QuickShip Program that can be shipped globally in just a few days. They offer custom sizes, colours, logos, and designs, built to exact superyacht specifications and ensuring your yacht slide integrates seamlessly.
Climbing walls
FunAir was first to market with custom-designed inflatable climbing walls for superyachts and has fitted out more yachts than any other company in the industry. You can choose between water entry or deck entry for your inflatable rock climbing wall, or work with the team on a solution that fits your exact requirements.
Sea pools
FunAir inflatable sea pools are a safe and comfortable way to enjoy swimming out in the ocean during your superyacht experience. The pools provide protection from jellyfish and sea critters with tightly woven netting and provide an enclosed area to prevent charter guests from floating away in the current.
Jet Ski Docks
Company's Jet Ski Docks and Personal Watercraft (PWC) Docks give your yacht a safe place to park your toys. These inflatable floating docks protect your guests, yacht, and watercraft and both organizes and secures your toys without the need of a drift line.
Floating Islands
The FunAir Floating Island is a great way for owners and guests onboard their superyacht to indulge in some relaxation out on the water. The island can be tethered from the yacht whilst out on the open seas or can bring a cool and luxurious option for lounging around in the shallow waters during a beach experience.
Beach Products: Beach loungers& Wave loungers & Daybed
FunAir's innovative inflatable beach loungers are the perfect addition to your superyacht for beach excursions, movie nights on the deck or attaching to the FunAir Floating Island. Fast and easy to deploy, these loungers are easily transported on a tender to the beach and store with minimal space requirements.
The FunAir Inflatable Daybed is a great way for your guests to relax on the water, beach or a movie night on the deck. The Daybed is a double width inflatable beach lounger that can accommodate couples in love, a hoard of kids or give those who like to sunbathe in style all the space they need to stretch out and starfish.