Because the sea is capable of the best but also of the worst, because the sea is unpredictable, your safety cannot be a question of optional extras and compromise solutions : your safety must be complete. This is our philosophy at Plastimo, and that's why our liferafts are different.
1. By coming to Plastimo, the Specialist of Safety Equipment for close to 60 years, you are sure to make the right choice.

2. Only Plastimo liferafts feature a double chamber construction.
Ever since our first liferafts in 1978, we have used the "tube-within-a-tube" construction originally developed by our R & D : a polyurethane inner chamber within a PVC coated outer shell.
PLASTIMO EXCLUSIVITY : the double chamber
This construction allows :
• to take advantage of the very best features of every material : offering extreme resistance outside, and perfect air tightness inside ;
• to simplify servicing : the outer shell is closed by a heavy duty nylon zipper, which allows for easy access, should the inner chamber need to be removed for repair ;
• to repair more easily at sea, especially if damage is situated below the waterline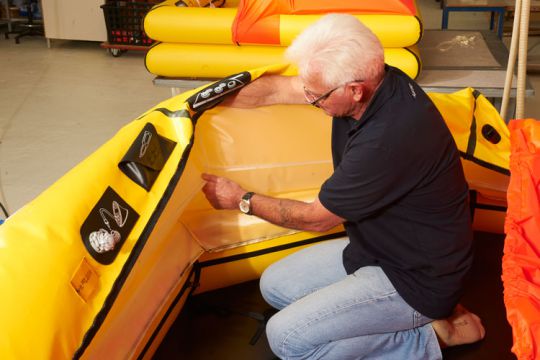 3. You will feel safe. Our liferafts "adhere"
For additional safety, our liferafts feature large deep ballast pockets, to improve the stability of the liferaft and reduce drifting. Plastimo ballast pockets feature a very large opening to facilitate the quick loading of water as soon as the liferaft is launched. Ballast pockets are ideally located on the outer ring of the liferaft for increased stability.

4. You won't lose the survival equipment.
In all Plastimo liferafts, the survival equipment is packed in a watertight pouch that is secured inside the raft ; whatever the conditions, the equipment will always be close at hand, and also visible through the transparent pouch with velcro closure

5. Plastimo runs its factory under ISO 9001 standard
Sewing, welding or trading inflatable structures is not enough to make you a liferaft specialist. At Plastimo, all operations are certified by Bureau Veritas as ISO 9001 compliant : product design, selection of materials, production and testing process. Our factory and teams are audited at regular intervals by independent officers in order to obtain the renewal of our certification, which guarantees a consistent quality of our liferafts.

6. Select carefully and regularly audit the technicians who will service your liferaft.
Once you have purchased a liferaft, we have just done a little bit of the job : just starting a long-term relationship through your local servicing station. When subscribing to the Plastimo customer service philosophy, these stations also commit themselves to regular training in our factory and subscribe to regular audits by the Quality team, to keep up with Plastimo safety requirements.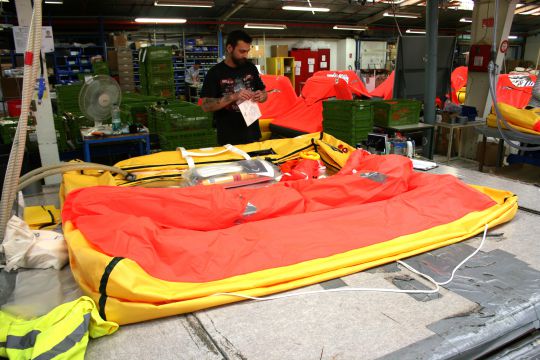 7. Should the unexpected happen, leading you to use your liferaft in a shipwreck, we will service your raft or replace it free of charge.
We are anxious to know you : learning from your own experience enables us to keep innovating and remain The Safety Specialist.

8. Wherever your cruise may take you, you will find a station to service your liferaft, in most places of the world.
We have been exporting liferafts worldwide for over 40 years.This unique experience gives you the assurance that our network of technical partners is perfectly tested and trained to service your liferaft. Wherever you are, you will find competent technicians to assist you. See list of Plastimo authorized stations on www.plastimo.com

9. Trust the Made In France quality and service of a long-established company, renowned as Safety Specialist.
Every liferaft that Plastimo launches on the market comes out of our Lorient-France factory. Over 40 years of liferaft manufacturing and servicing give our engineers and technicians a unique experience and feedback for you and your crew to rely on.

10. Selected by the sailing Elite
100 % of Ultime trimarans, 100 % of Figaro Bénéteau 3, the majority of 60' Imoca, Class 40 and Mini 6.50... The most prestigious skippers are often those who take most risks, and we are very proud that they trust Plastimo for safety.

10.+1 Your Plastimo liferaft is backed by a 18-year warranty
Over 40 years of production and thousands of liferafts in service across the world justify our confidence and our exceptional commitment : an 18-year warranty rests on a proven technology, an uncompromised quality and it also gives clear evidence of our corporate contribution to more sustainable products.